Dualer Student (m/w/d) Business Administration (Bachelor of Arts)
Add to watchlist
Hamburg
Festangestellt
Start: 01.03.2023
Duration: 3,5 Jahre
---
Du möchtest gerne studieren, aber auf die Praxis nicht verzichten? Musst Du auch nicht - mach doch einfach beides!

Absolviere mit GECO ein duales Studium an der FOM und steige gleichzeitig in die Praxis ein. So sammelst Du von Anfang an Erfahrung im Berufsleben und erwirbst parallel den akademischen Abschluss des Bachelors of Arts. Während der sieben Semester wechseln sich Theorie- und Praxisphasen ab. Durch aktive Mitarbeit im Tagesgeschäft und in Projekten lernst Du verschiedene Aufgabenbereiche kennen und kannst Dich ab dem ersten Tag in unser Unternehmen einbringen.

Ein weiterer Pluspunkt: Bevor Dein Studium startet, hast Du die Möglichkeit ein Vorpraktikum bei uns zu machen, um bereits vor Studienstart entspannt den Berufsalltag kennenzulernen und bei uns anzukommen.

Für unseren Standort HAMBURG suchen wir zum Sommersemester 2023zwei engagierte Studenten (m/w/d) für das duale Studium im Bereich Business Administration - Bachelor of Arts (B.A.)
Wir bieten Dir:
Eine anspruchsvolle und abwechslungsreiche duale Ausbildung rund um das Thema Personaldienstleistung und Betriebswirtschaft

Raum für Deine berufliche Entwicklung

Junge und dynamische Teams

hybrides Arbeiten (Mix aus Homeoffice & Büro)

Firmenlaptop

helle Büroräme & ergonomische Arbeitsplätze (u.a. höhenverstellbare Tische)

kostenlose Kaltgetränke, Kaffee & Tee

Tages-Studium (2 Tage/ Woche an der FOM und 3 Tage/ Woche bei GECO)

Finanzielle Unterstützung bei den Studiengebühren und Ausbildungsgehalt

Aussicht auf Übernahme nach erfolgreich abgeschlossenen Studium
Deine Qualifikationen:
Ein erfolgreicher Schulabschluss (Allgemeine Hochschulreife oder Fachhochschulreife)

Gute Allgemeinbildung sowie ein ausgeprägtes Interesse an wirtschaftlichen Zusammenhängen

Du verfügst über analytisches Denkvermögen und eine schnelle Auffassungsgabe

Du bist leistungsbereit, kommunikativ und arbeiten gerne im Team

Du hast sehr gute Deutsch- und Englischkenntnisse in Wort und Schrift

Du besitzt Affinität zum IT-bezogenen Arbeitsumfeld

Du hast außerdem Erfahrungen mit MS Office, arbeitest sorgfältig und zuverlässig, bist selbständig, pünktlich und kannst dich gut organisieren?
Deine Aufgaben:
Kennenlernen der branchenspezifischen Abteilungen in unserem Unternehmen

Führen und Erstellen von Personal- und Bürostatistiken

Unterstützung im Vertragswesen und Controlling

Aktive Rekrutierung über verschiedene Kanäle

Bearbeitung eingehender Bewerbungen

Planung, Organisation und Durchführung allgemeiner Bürotätigkeiten

Eigenverantwortliche Projektarbeiten
Studiendauer: 7 Semester / 3,5 Jahre

Informationen zum Studium an der FOM in Hamburg findest du hier. Weitere Informationen zum Studiengang findest du hier.
Interesse an einer spannenden Ausbildung mit vielen Perspektiven? Bewirb Dich bei uns!
Sende bitte Deine vollständigen Bewerbungsunterlagen an Nadin Schöne (bewerbungen@geco-group.com). Wir freuen uns insbesondere über Bewerbungen schwerbehinderter und ihnen gleichgestellter behinderter Menschen.
Wir freuen uns auf Dich!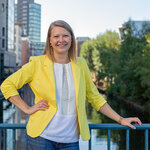 Nadin Schöne